The forest helps us, so let's help it! The forest is an essential part of life on Earth as we know it: providing a home to irreplaceable ecosystems, acting as the principal habitat for land-based biodiversity and playing a key role in stabilising the climate.
Yet our natural forests, and the biodiversity to be found in them, are rapidly disappearing, especially in the tropics. Join Envol Vert in the fight to protect them by reducing your forest footprint!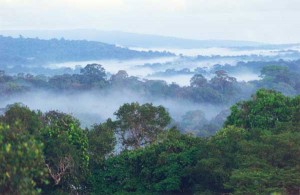 1- By only using sustainably sourced leather goods
Leather comes from cows, which need land to graze on. In some cases, these grazing areas are situated on sites where the natural forest once stood. In South America, cattle ranching is the main cause of deforestation, especially in Amazonia. One of the by-products of ranching, leather, makes its way over to France, mainly in the form of shoes. As the second-largest nation of consumers of shoes in the world, we in France therefore need to be careful to make sure that our favourite label only uses leather which is certified as not coming from deforested regions.
Click here for more information: Envol Vert, le cuir tanne la forêt
2- By choosing wood which is from certified, legal, and preferably local sources!
An estimated 40% of imported tropical wood in France has been cut down illegally. The illegal exploitation of wood is one of the main causes of deforestation and is placing increasing threat on natural forests which have been untouched up to now. Wood products which have been certified by organisations such as the FSC (Forest Stewardship Council), and which are committed to the respectful and sustainable usage of the forest can be an option. Let's not forget of course that wood is a naturally occurring and renewable product which we can use (for heating, corks etc.). Across the 309 different forest regions in France, we can find a wide variety of wood species, which can be used for a whole range of purposes: oak windows, ash garden furniture, chestnut flooring, larch cladding, cedar kitchen surfaces, maritime pine pannelling…. Nowadays we can create a cosy and pleasant home environment by making the most of the different advantages and properties of the trees which grow in our own nation.
3-By reducing your consumption of products made using rare ores and oil
Watch out: lurking behind your computer screen there may be gold coming from illegal Guynaese exploitation, an activity which is slowly poisoning the Amazon. In your mobile phone there is colt, which we have plundered into thousand-year-old forests to find. Any product made from plastic contains petroleum which may come from the destructive exploitation of forest reserves. We don't necessarily need the latest electronic gadget that the multinationals are trying to sell us and we certainly need to find an alternative to plastic as quickly as possible.
4- By buying recycled paper- and recycling it again afterwards!
In spite of the efforts of the paper industry, this resource may still come from recently deforested zones. We therefore need to reduce our usage of paper (notably by avoiding unnecessary printing), reuse the blank side of pages as scrap paper, and to recycle it in the correct box. When buying paper, always opt for 100% recycled sheets, and always bearing an eco-friendly label such as the FSC recycled certification.
5- By supporting a forest protection association such as Envol Vert
Europe is the world's largest contributor to tropical deforestation through its consumption of raw materials such as soya, palm oil and wood. We therefore find ourselves faced with a great debt to repay the forest. By supporting an association with a real impact in forest conservation and by getting behind a specific fieldwork project, thus ensuring that your donations go directly to your chosen cause, you can do your bit to protect the forests which have given us so much.
Find out how you can support Envol Vert here: http://envol-vert.donnerenligne.fr/
6- Watch out for the soya which is feeding our ranches! Vary your different sources of protein
Be careful: soya is the main cause of deforestation in the oft-forgotten Brazilian ecosystem of le Cerrado, a wooded savannah which is rich in native biodiversity. This soya is most often GM and is mass imported into France in the form of animal fodder, used especially to feed poultry and dairy cows. We need to completely rethink our way of feeding ourselves by limiting the amount of meat we eat, varying our sources of protein and choosing locally sourced-if possible organic- meat products and by basing our meals around…soya. Only this time soya which is organic and grown in France.
7 – By discovering forest biodiversity
From Alders and ash trees along the banks of the river to chequer trees in tall forests, from Ceibas and Guaimaros in rainforests to chestnuts around the edges of farmland, each tree and every forest has its own unique story to tell. This story which our trees have to tell us is a dynamic, touching one and, more to the point, one which is intertwined with the tale of all the biodiversity to be found in our forests. Did you know that the forest in France is home to 72% of our fauna and flora, and that forests worldwide house over 80% of land-based biodiversity? Open yourself up to the power of the forest: it gives us both our resources and our freedom.
8- By eating more healthily, you'll also be protecting the forest
Beware of the numerous processed foodstuffs which are described as containing 'vegetable oil', which is really palm oil that contributes to the deforestation of one of our planet's most majestic forest regions: that of South-East Asia. There are various bodies, such as the RSPO, who approve and help with certification for businesses sourcing palm oil in a sustainable and responsible manner. There is another hidden link with deforestation in butter, since soya is used to feed the dairy cows who produce the milk with which it is made. The simplest solution is to eat more healthily and consume fewer fatty foods.