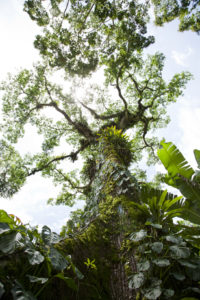 Envol vert has chosen to support projects with a clear focus and which make an impact in the fight against deforestation, namely projects that allow solutions to be implemented by local groups, communities, cooperatives, small associations…
Envol Vert's missions
– To make a contribution, principally through small local projects, towards the preservation of the forest, its biodiversity and the reduction of CO2 emissions.
– To encourage the development of local conservation initiatives by providing support and advice in the establishment and planning of projects, along with training in order to develop any required skills.
– To ensure that any conservation initiatives make a further social contribution by acting as a source of income to local communities.
– To make companies and organisations aware of the environmental impact of their activities, and of the ways in which nature and forests serve them.
–To help companies make a further financial commitment by finding them a specific project to support: that is to say one which is within their means, which compliments their own values, and which they can feel passionate about.
Our Approach
Depending on the specific nature of each project, the level of development in an area and the capabilities and leadership style of those responsible for the project, Envol Vert takes action in several different ways:
– Helping to set up projects by setting out logical plan of action in writing, which identifies the project's main aims and means of evaluating its eventual success, and by helping to search for potential partner institutions…
– Developing skills and team building by providing training to the community responsible for the project, helping them to understand how to identify and tackle problems, offering various forms of technical support, placing volunteers where they will be of most use…
– Offering Financial Support, a gesture made possible thanks to the donations which Envol Vert receives from individuals and companies, but also through successfully securing project grants.