NICARAGUA : Base Camp Bartola
A local initiative organised by residents of the Bartola community to conserve resources and biodiversity in the Indio Maiz Nature Reserve by promoting ecotourism

Where: NICARAGUA, Río San Juan
Activities on Offer: :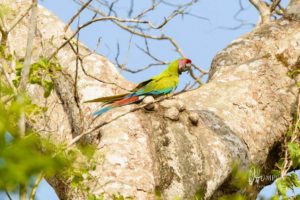 – Nature walks through the Rainforest, allowing you to identify plants and animals
– Learn about and join in with the economic initiatives of the local community (visit a cocoa farm and learn how to make artisan chocolate)
– Learn how to sail a 'cayuco' on the calm and clear waters of the local rivers
Accommodation: In luxury tents on a platform overlooking the forest. Tents come with mattresses, showers, toilets and clean drinking water. There is no electricity.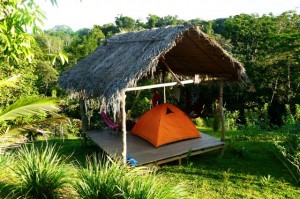 Cost :
The Cooperative offers various all-included packages, covering transport, accommodation, meals and activities.
2 days and 1 night = 2 people 179 dollars ;4 people 264 dollars
3 days and 2 nights = 2 people 215 dollars ;4 people 342 dollars
Example of the 3-day deal: Arrive in the morning, lunch and then walk along the 'Los Gemelos' trail ,dinner and time to relax. On the second day, breakfast, walk along the 'El Tucan' trail, which is a longer path. Back to camp for lunch and then participation in a community activity at the home of one of the cooperative's members in the afternoon. Dinner and the option of taking a night trip by canoe along the river Bartola. On the third day, breakfast before heading back to El Castillo.
Getting There : Take a boat along the Rio San Juan from San Carlos to El Castillo. From there, the Sol y Luna cooperative will take you on the 1½ boat journey to the Bartola commune.
Contacts :
– Phone: 84334664
– Email : indio.maiz@gmail.com
– Facebook : Basecamp Bartola