Make a Donation
Show your commitment to forest protection !
Why should you give to our association?


Because even though the forest is crucial to our own survival, it is in grave danger.
The forest is coming under increasing threat: every year, another 13 million hectares worth of forest disappear. From crop plantations, to the over-exploitation of wood, from the search for oil to illegal trade… the human race's impact on this environment is immense. Whilst an acknowledged treasure in terms of global biodiversity, rainforests are, nevertheless, amongst the hardest-hit ecosystems in terms of environmental degradation.
Yet the forest plays a key role in maintaining both social and environmental stability. Its worth is without measure. Without it, life as we know it could simply not go on.
Which is why, in order to carry out our projects in France and abroad, to implement and maintain sustainable practices of exploitation and forest management and to support local communities…. We are in need of your generosity!

Because your donations will directly support the development of schemes working to preserve the forest.
Over 70% of donations received by Envol Vert are directly allocated to forest conservation projects. The funds which we collect go towards the financing of different local projects co-ordinated by Envol Vert.
We hold an expenditure review several times a year with the organisations which we support financially. An annual activity report, which is available upon demand, gives an account of the activities carried out by the association, along with the budget assigned to each of these projects.
If you have any questions, or want to find out more about Envol Vert before offering to support us, then don't hesitate to get in touch by e-mail ( contact@envol-vert.org) or in writing.
If you want to make a donation :
• 1- You can make an online donation : Make a donation to Envol Vert
• 2- You can sign up to a monthly direct debit agreement, which will ensure the long-term continuation of the association's work. In order to do so, you need to fill out the coupon on the form which can be downloaded from our site and then returned to the address provided.
( this form will be available soon)
• 3- You can opt to make a donation by cheque. In this case you can print off the form and send it, along with a cheque addressed to Envol Vert, to the following address: Envol Vert, 61 rue Jean Pierre Timbaud , 75011 Paris, FRANCE
Secure Payment System
Our website is 100% secure. Your transaction will be processed by an integrally secure and protected payment platform. Your bank details will not be passed on under any circumstances. The SSL encoding of your bank details means that your online payments are entirely secure (in this case the page URL will begin with <<hhtps>>).
Respect for your personal details
Your details are essential in order for us to be able to send you a tax receipt and enable your tax reduction. We use them for administrative and information purposes: we will never release or sell your details to third parties or businesses.
In keeping with the law 'informatique et libertés' ('information and freedoms') passed on the 6th of January 1978, you have the right to access, withdraw, challenge and remove any details relating to you. You can exercise this right in writing by e-mail at contact@envol-vert.org or by post: Envol Vert, 61 rue Jean Pierre Timbaud , 75011 Paris, FRANCE
An account from Michaël, a regular donor to Envol Vert: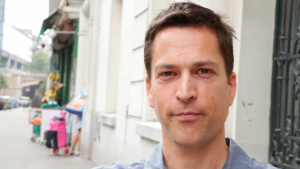 'In the environmental crisis which we have been facing for many years now, I am most concerned about biodiversity, and that of the rainforest in particular. When I happened to meet Daisy Tarrier, the president of Envol Vert, through social networking a year and a half ago, I discovered this fantastic association, and the opportunity which it offers to really get involved in the fight to protect forests and their natural biodiversity. I especially love the way in which the association makes you feel in touch with their projects. As a monthly donor, I can see the link between my donations and the association's projects, something which is very important to me. As someone who is passionate about both nature and Latin America, Envol Vert seems like the perfect association for me.'