Colombiodiversidad: A festival celebrating the power of biodiversity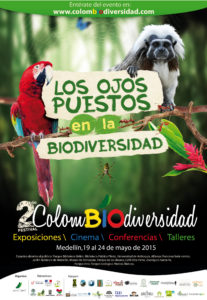 www.colombiodiversidad.com
This festival aims to make the Columbian nation realise just how important it is to protect their environment and its natural biodiversity.
Home to 0,7% of the planet's pastureland and around 10% of its flora and fauna, Colombia is the world's second richest country in terms of biodiversity.
Yet any measures to protect this rich biodiversity are still few and far between. Sadly, Colmbia is ranked 27th in the list of the 40 countries who hold the unenviable status of doing the least to protect their own native fauna and flora. The growth of large companies who give little consideration to the state of the environment, civil war, agricultural deforestation and the general population's weak understanding of ecological issues are some of the principal causes of this situation.
It is vital that the local people begin to take a different view of the situation, and start to appreciate their own environmental heritage, which is exactly why Colombiodiversidad emphasises the importance of biodiversity!
Colombiodiversidad is a festival which hopes to reach out to as many people as possible, by holding events in areas which are open to all and by offering a diverse programme of expositions, film festivals and conferences.
EXPOSITIONS
Colombiodiversidad has asked the residents of Medellin to submit their answers to the question 'If trees could talk, what would they have to say to us?'. The 1000 messages offered by participants from a wide range of backgrounds will be shared and displayed throughout the town for two weeks, posted on 700 trees for everyone to see. This exposition has already been displayed in Paris, the trees talk to us (in french)
A photography competition on the theme of biodiversity in Colombia is open to all of the town's residents. The winners will receive a prize and the winning photos will be put on show in the town!
And that's not all: An exposition looking at the Colombian flora will also be held at the Universidad Nacional, and Yann Bertrand/Goodplanet's works on biodiversity and the world's forest will be displayed at the Alliance Française.
FILM FESTIVAL
Trailer for 'Il était une forêt' ('One upon a time, there was a forest…')
A short film competition will bring together 20 different films. The attending audience will then have the chance to vote for their favourite work and the winning short film will receive a prize. A series of other relevant films (Home, Alma, green…) will also be shown and followed with a discussion between the audience and an expert.
CONFERENCES
There will be 3 conferences with presentations from environmental experts, followed by a discussion with the audience. The topics addressed will be: The importance of biodiversity in Colombia; The benefits which Colombia's ecosystems have to offer and the potential consequences of their destruction; What we can do to lessen the deterioration of biodiversity. Envol Vert will give a special presentation of the Forest Footprint.
Esta nota está también disponible en: Espagnol