Envol Vert is organising the second Festival ColomBiodiversidad in Colombia. The festival will take place in Medellin from 19 to 24 May 2015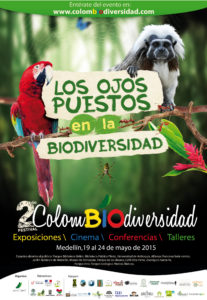 Dozens of events are planned, including exhibitions, environmental film screenings, a short-film contest, conferences with specialists…. plus a city-wide exhibition entitled "What insects have to tell us".
What is more, thanks to support from the French embassy, the well-known botanist Francis Hallé will be in Colombia for ten days with Envol Vert. To mark the occasion, in addition to the conferences organised as part of the festival, two events will be held in Bogotá on 11 and 12 May. He will also be out in the field with the President of Envol Vert to learn about the sustainable ranching and Noya Maya project.