May 2017
The new Inga saplings are here !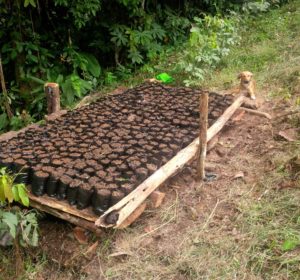 The new seedlings have finally arrived and so begins the preparatory work to prepare their new home in the nursery. The germination rate of 80% is most encouraging and the growers are proud of their achievements.
In 3 months the young saplings can be transplanted in the plots previously identified by the work of the growers in collaboration with our on-site volunteers.
Two training days were successfully completed working with the Fundación del Rio and the growers and the volunteers had the opportunity to present their project. These first training days focused on conservation of the forest zones severely depleted by Hurricane Otto and recovering the lost trees. All parties are playing an active role and the advice from the Fundación is well appreciated by the growers. Reforestation is really taking root in the minds of the growers.
Ce message est également disponible en : French