Every year for the past twelve years, to mark International Women's Day, the Yves Rocher Foundation has awarded prizes to three "Women of the Earth" in France.
The winners of the "Women of the Earth" awards are selected by a jury of 11 personalities from the environmental sector. They carefully assess the applications received each year, measuring them against some very strict criteria, such as the project's link with the plant world, the project's tangible achievements and future perspectives, and the originality of the project, all taken into account when awarding the prize.
The women selected all lead actions that help preserve the plant world and improve the environment, while contributing to the well-being of the population. The prize is much more than a financial contribution: it offers these women a form of benevolent support, a valuable boost and the certitude that they are supported, followed and will be joined by others.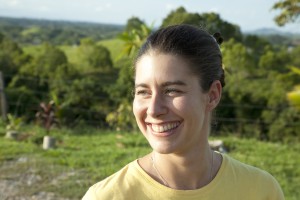 In 2015, Daisy Tarrier was awarded the "Women of the Earth" third prize for her work with Envol Vert and, more particularly, for the action aimed at developing silvopasture in Nicaragua. Congratulations!
Although the association is still very young, it is already very active because, alongside Boris Patentreger, Daisy Tarrier has committed herself to the organisation with generosity and conviction. The growing number of volunteers are even prouder than ever to offer her their support and to share in her energy and dedication.
The prize money received will be entirely donated to benefit the Bortola community in Nicaragua, as part of the silvopasture project.
Learn more about the association's projects here: http://envol-vert.org/en/projects/all-our-projects/
Measure your Forest Footprint: http://empreinte-foret.org/quizz/
Back Envol Vert's action and help protect the forests: http://envol-vert.org/en/to-actto-give/make-a-donation/