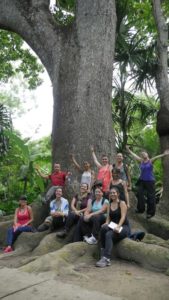 Twelve lucky staff members of Maison du Monde came to discover the Maya walnut tree project and sustainable farming on the occasion of a solidarity leave they are sure to remember. From September 10th to 18th this French visitors came to the municipality of Los Limites to share intense moments of joy with their hosts, during several activities related to the project of dry forest preservation.
The visit of the plots introduced the week, providing to the group a first contact with the farmers, along with the chance to get familiar with the agroforestry system implemented for the organic production of a variety of fruits and vegetables, and plants with medicinal virtues used by the community. The participation of the visitors increased as they helped to plant more than 200 trees on the project area, thus contributing to the reforestation by native species of the tropical dry forest, such as the Maya walnut tree.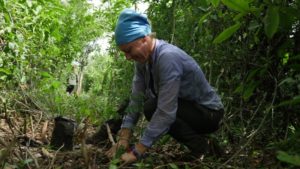 The women of the community had as well an opportunity to share their knowledge with the French. The latter learned during their stay how to crochet a recycled plastic wire originating from used bags, with the women from ASOARTESANAS, an association dedicated to waste reduction through making craft objects. The learning carried on with a workshop on traditional cuisine during which everyone made jams and products based on Maya walnut tree powder. French like Colombians did then surpass themselves to sell the products on the roadside of the village, thus prolonging these moments of sharing and conviviality and promoting ASOCALIM.
The guided tour of Ceibal reserve offered to the Frenchs an enchanting discovery of the very specific ecosystem of the tropical dry forest, and of its iconic representative: the white-headed Titi monkey. This ecosystem is today extremely weakened, as were able to notice the group during their way through the deforested areas of Ceibal farm, thus giving its full meaning to the project led by Envol Vert.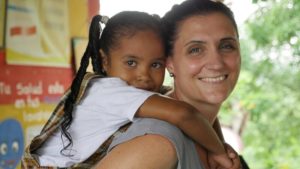 This week awoke strong feelings among everyone and lingered in the memories unforgettable souvenirs, and very strong exchanges with children. The community of Los Limites can be proud to offer to foreign visitors the best of the Colombian Caribbean coastline.